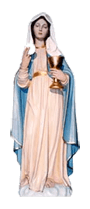 Homily of H.E. Mons. Claudio Gatti of May 8, 2009
In this short homily the Bishop makes the whole community aware of the painful situation he is living together with sister Marisa and he is asking everybody to knock at God's heart for the Seer's departure.
The prayer to Our Lady of Pompeii is recited twice a year: on May 8 and on the first Sunday of October. We are very devoted to Our Lady, so now we will recite the prayer. I beg you to pray for one single intention, while remembering what the Mother of the Eucharist said at the end of March: "God is pleased with the prayers that you say for the single intention the Bishop has asked: Marisa's departure". Those who often come to this place will have realized the insistence with which our sister is asking to go to the Father. You have heard that last night, as it happened many times before, she has been crying in pains. Place yourself for a moment in Marisa's situation or in those taking care of her and draw your conclusions. Those who love must side with those who suffer, there must be respect and understanding.
Now let us recite the prayer and ask God, through Mary's intercession, what is in our sister's heart and also in Mary's heart, who, in the month of March, said: "I wish it were all over, I would have liked that the Bishop and the Seer's life to be beautiful. I would have liked it". She too has to bow before God, but as she is the Mother of God the Son, daughter of God the Father, Spouse of the Holy Spirit, she also has a strong persuasive power on the heart of God, to whom we turn. Jesus said that the kingdom of God is won by force and then we have to conquer God's heart with the power of prayer and love, with the strength of our sacrifices and our commitment. Using an image from the military, we encircle God's heart with our hearts. They are small, but I am sure that all together, assisted by Our Lady's prayers, much more powerful than ours, we can make God smile and, at last, say yes to the one whose place was prepared since a long time. From there she will be much more valuable to us because much more powerful next to God.