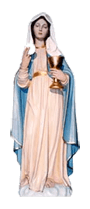 23rd november 1997
The Mother of the Eucharist put a big host on the chalice of Jesus Sweet Master and many hosts on the leaves of a plant.
Our Lady: "My beloved children, thank you for your presence here and for your love, thanks to those who received my son Jesus in a state of grace, for the sacrifices you have faced; thank you for everything.
This day remembers the 26th november of two years ago, when Jesus came in your midst, but He was not understood. If you have not still understood, it is because, as a mother would say, you are headstrong persons. But I love you, my beloved children, I love you with all my heart and I wish to bring you to holiness. Jesus said: "Come to me, tired and oppressed and I will restore you". Together, let's go to Jesus, let's receive him inside our heart, let's speak with him, let's ask those graces we need, provided that they are in accordance with God's will. Never forget: always do God's will.
Today it is the feast of my son Jesus, of Christ the King. He is not a king with the crown on his head, but He received the crown of thorns. He is king, just like I am queen and you are all princes, you also are without crown, but with much love. Humility and charity, I said. Humility brings you to the glorification, charity to holiness. Do you want to become saints?".