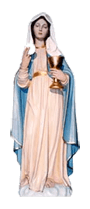 During the night between the 21st and the 22nd, Our Lady, accompanied by the angels, brought many hosts that she put on some flowers in Marisa's bedroom.
The following morning, when Don Claudio realized the happened miracle, after having adored Jesus present with his body, blood, soul and divinity in the Eucharist, he took the hosts on the flowers and put them inside a pyx; some of them were wet by the serum, that is the water about which St. John speaks. He went down into the chapel to announce the new Eucharistic miracle to the people present. When he came back upstairs, dressed with the sacred vestments and accompained by the young people, Don Claudio noted that a new Eucharistic miracle had happened: a big host had been put on the previous ones and some drops of blood were coming out of the host and they were spreading on its surface. A very great joy and emotion came back into the heart of those who were in front of the sixth host that had bled. The Eucharist was solemnly brought in procession, then the people present and especially the sick were blessed with it.
During the apparition the Mother of the Eucharist explained: "The blood has come out of the host again to save the souls and for the conversion of the great men. Jesus loved the men very much, also those who spat upon him and flagellated him. History repeats itself. Today other people are flagelled, people who love my son Jesus.
For your priest and your sister this will be a holy week, a week of continuous suffering. Even if they obeyed the ecclesiastical authority and said: "Yes, we do what you say", they would be trampled down all the same. The great men want to bring these my two children to the moral and physical death. They don't want an open dialogue, like between father and son, they neither read the letters sent by the priest or if they read them, they put them aside or they tear up them and then they send decrees without having examined or asked anybody, without coming here to see my son Jesus who bleeds. The decrees are not valid. My beloved children, you can't understand thoroughly how great the suffering of my two children is and how much wickedness is against them. Look at Jesus the Eucharist who bleeds. God performed this miracle because He still wants to help you and make you understand thoroughly that unfortunately the ecclesiastical authority is being grossly mistaken. Today it seems that my two children have lost the battle, but then there will be the victory, the joy, the peace. But you, Marisella, will enjoy only in the Paradise".