In the month of August 2003 the Bishop and Marisa spent some days to recover their strength in Frontignano, in the province of Macerata, a few kilometres away from a place called Fonte San Lorenzo. Here, in July 1971, took place the first apparitions of the Mother of the Eucharist, in the presence of the priest Don Claudio Gatti.
This place is located in a big valley in whose lower part there is a spring; from here, climbing up, one gets to the place full of memories and very dear to the Bishop and Marisa.
After their first meeting, happened on July 15, 1971 in Visso (MC), Marisa took part in the summer camping organized for the recovery of some young people taken from the road and led by Don Claudio.
The first time Don Claudio was present at the apparition, was in the occasion of a prayer meeting he had organized for the young people in the camping. The priests, his co-operators and the youngsters themselves did not come, but the only one who accepted the invitation was Marisa. In that occasion, while they were praying together, Marisa entered in ecstasy, fell on her knees and began to talk to the invisible.
In the first times the apparitions took place in a different way from today. What Our Lady said was not repeated by the visionary, as happens now, but could be understood only through her answers. The conversation of the first apparition at which Don Claudio was present is clearly present in his mind; it concerned the situation of the Church. Since Don Claudio had not yet understood that Marisa was seeing Our Lady, while listening he wondered: "How can this person know so well these delicate problems of the Church, about which I was informed by card. Ottaviani?".
As a matter of fact for a short period, until he refused to work in the Vatican under the protection of the powerful cardinal of the ex S. Ufficio, Don Claudio had enjoyed the esteem and sympathy of the above-named cardinal who had confided him many important problems of the Church. But Don Claudio's surprise reached the highest peak when he heard Marisa repeating the prayer he had written in the occasion of his priestly ordination, that he only could know.
The conversation between Marisa and Our Lady lasted more than three hours, in which time seemed to stop and tiredness to disappear. When it finished, Marisa got out of the ecstasy and tranquilly restarted to say the Rosary from the same point it had been interrupted.
That night Don Claudio did not sleep, one thousand questions got to his mind and to none of them he gave the only right answer: "Marisa sees and talks to Our Lady". The kind of formation he had received and his rational mind made him particularly critic, if not diffident, towards all that could be related to the supernatural.
Unsatisfied of what he had seen and heard, as being prudent by nature, he wanted more signs to confirm the supernatural origin of the apparitions.
He asked the first sign during the celebration of the holy Mass: "Lord, if the person who spoke with Marisa is Our Lady, you must convert in twenty-four hours all the young people present in the camping who are far from the Christian life".
During the morning all the youngsters, one after the other, asked Don Claudio to confess. What astonished the priest was that each one explained his sins in a so precise and detailed way that he wondered many times: "How is possible that youngsters who received no religious formation, can be so precise in explaining their sins?".
He had the answer during the lunch, when they thanked publicly Marisa because she had not only helped each one to examine their conscience, but she had also identified for each one the sins to confess. Moreover, to remove all doubts, Don Claudio made the Lord a second request: being informed about future events concerning the Church. The Lord satisfied him again and during the apparition, through Marisa, He informed him about what he had asked.
Finally, since he had known that Marisa had the invisible stigmata, like Our Lady and other saints, he asked the Lord, during the holy Mass again, the stigmata opened under his eyes. Also this request was met. In fact just during that holy Mass Don Claudio noticed that Marisa was suffering very much and at the moment of the peace exchange he saw the stigmata had opened on the palms of her hands that poured blood and serum. At that point Don Claudio surrendered and said his "Yes" to the Lord, who was calling him to carry on an important mission in the Church. Together with Marisa he will repeat "yes" again many more times. So began their hard and long mission, very pleased by God and fought against by the men.
On August 16, 2003 the Bishop and Marisa, pushed by a strong interior impulse, went to this locality, notwithstanding the road was disarranged and so very painful for Marisa to run along it by the car due to her health conditions. But as soon as they reached the not asphalted part of the road, Marisa entered in ecstasy and had no problems caused by the jerks and counterblows of the car. The supernatural help continued also when she got off the car, because she had the possibility to walk with her legs as far as the place where Our Lady appeared.
The Mother of the Eucharist gave this unexpected announcement: "In the future in this place a stone will be placed with the names of my two little children. This place will be sanctified by God, will become thaumaturgic and will be opened to the people wishing to pray" (Letter of God, 16th August 2003).
This new God's intervention brought into the Bishop and Marisa's hearts a great joy, much and a push to go on, because it is a further blessing and approval on the Lord's behalf to their mission, begun 33 years ago just in this place.
"The place God blessed and made thaumaturgical is one of His gifts and you are the first ones to enjoy this grace of His, do not forget it. Those who have children, let them teach them what God accomplished" (Letter of God, 17th August 2003).
This divine intervention is a strong help for all the souls to convert themselves and to grow in the holiness, because God gives helps and particular graces to the souls praying in the thaumaturgical place and allowing themselves to be led by His hand to reach marvellous heights.
Our Lady announced that in the future there will be a great flow of pilgrims to Fonte San Lorenzo and by God's will the place must remain simple, without churches and basilicas, but a big cross must be erected over it, which is well visible also from afar. At the base of the cross will be placed a polished rock, with an inscription to remind what happened in this place in 1971.
After the great announcement, Our Lady wanted, after Jesus' blessing, also the Bishop to bless the new thaumaturgical place: "At this moment Jesus is blessing this place and I want also my beloved and holy Bishop together with Jesus to give his blessing to this place" (Letter of God, 16th August 2003).
On August 30, together with some young people and grown-ups representing all the community, the Bishop and Marisa came back to Fonte San Lorenzo. A little and modest cross was placed, with the intention of replacing it in the future with a bigger one, at whose base was placed a stone with the following inscription: "The Mother of the Eucharist appeared here to Marisa Rossi in the presence of the future Bishop Claudio Gatti".
Just on that day, during the apparition, Jesus gave a new gift: ten souls of the purgatory were brought into the Paradise. Then He said: "The blessing that made this place thaumaturgical was given by God. Also the water that people will come to drink in this place is blessed", and He reminded what had happened 32 years before: "In this holy place in 1971 many Masses were celebrated by Don Claudio with great suffering. But at last he had a great joy, for those boys all converted; they were forty. Many years later, today you are in this place that God made thaumaturgical, holy and you will attend the holy Mass" (Letter of God, 30th August 2003).
Recently the Bishop announced to all the community: "We will do a pilgrimage to Fonte San Lorenzo, so you also will know this place. We know with certitude that it is a place made thaumaturgical by God, where accordingly, God gives graces".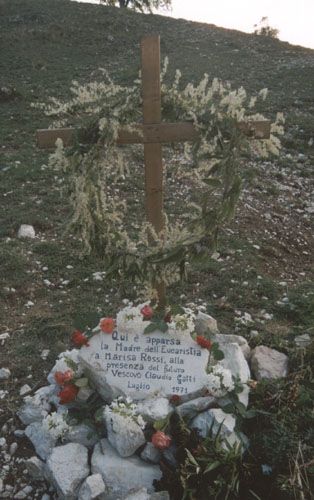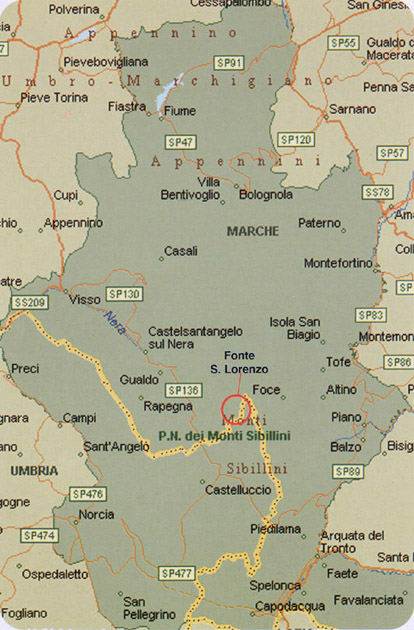 The first pilgrimage of the community to Fonte S. Lorenzo
Fonte S. Lorenzo (MC), 4th September 2004 - h. 4:45 p.m. (Letter of God)
Marisa - From the highest of Heaven you have came to the Earth to stay with us.
Our Lady - I, the Mother of the Eucharist, have no words to thank you, because finally you did the pilgrimage I awaited. As always, there are some little clouds: whispering, talking, and eluding to do promptly things to be done. If it is said that you have to be four or five together in the same car, is imperative to obey, so you don't use many cars. When the Bishop says something it is always for your own sake.
Anyway, for me is such a joy to see you here together after having faced so many sacrifices, you started the pilgrimage from Rome, from Castel Sant'Angelo, from Visso and the Domus Laetitiae. Regarding the body you did think a lot, but you also thought more about the soul, you prayed the Holy Rosary. One year ago, on August 30, God came here to bless this place and the water. Everything here is thaumaturgical. Some people who did not know it, stopped here for a pic-nic and they drank the water. A little girl who was very ill, drinking the water was cured. Today she is in good health; she doesn't have anymore that terrible decease that you all fear. People who come here and drink the water while they are thirsty, do not know that by drinking this water they will be cured.
God, Who made thaumaturgical the place in Rome, made thaumaturgical this place too, this place should stay untouched, exactly the way it is now. Here you will not find anything else than the stream and the water and the trees. Here, my two children lived a long apparition of three hours. Think about: your sister has been standing on her knees for three hours here and, when she stood up after that, she continued the Holy Rosary exactly at the point she left before the apparition without stepping-out one single Hail Mary. Obviously, today, my poor daughter cannot do as much as she did before, but let's say that she did more than that this time if we consider her health conditions, but she did it with love for God and for you all. You have noticed that she can only walk when I stay by her side, but she can't do more than this.
Lots of people will come here for a pilgrimage. They will know about the fountain, they will know also that this is miraculous water and also, as your Bishop told you, priest and bishops will come too, but the one who will come first is the Holy Father, not John Paul II, because he cannot accomplish the same trip you have done. You travelled along a tiring road, I recognise it, but now is finished, you feel a great happiness in your heart, after all the sacrifices you have faced, because you have arrived to this place lost in a valley only known by few people who come for the week-end. Today I, the Mother of the Eucharist, ask you to pray for the persons who couldn't come and stayed in Rome. How many persons wanted to come but they couldn't, because for those who are very ill and very old, as you can see, this place is not easily accessible.
Somebody said inside his heart: "I am not coming anymore to this place". This hurts me, because he did not understand that before reaching something beautiful, the sacrifice and the love for God and Jesus come first, for the Mother of the Eucharist and for your Bishop, who teaches you high and deep truths and he is always able to say particular prayers, he gives you catecheses and biblical catecheses, during which some sleep and some stay awoke, and if you pay good attention to what the Bishop explains, you will understand how beautiful is the love to my Son Jesus.
I beg you, down on my knees in front of you, with tears in my eyes, with my bleeding heart: "Do not commit sacrileges". If you commit sins, confess them, do not receive my Son Jesus in state of mortal sin because you are committing a sacrilege and by this way the evil turns around you and makes you fell down, down, down and makes you tell lots of lies. Then come haughtiness and pride and all sorts of weaknesses that you know well because your Bishop explained them many times before.
Marisa - Dear me! The whole Paradise is coming down to us!
God the Father - I, God the Father, have made this place thaumaturgical, I thank you for coming. I invite you not to lack the charity, not to whisper and badly chat one against the other, but to love each other, because, remember, love is the only virtue present in Paradise. If you have done the sacrifice of coming here, you can do even more, but without exaggerating.
I have brought all the angels and the saints with Me, who sing "Glory to God in the highest of Heavens".
I am here and the Holy Virgin, the Mother of the Eucharist, is on her knees adoring Me. Remember: if you want to go to Paradise, do not commit serious sins, do not whisper bad things, do not be envious, do not be jealous, but love each other; I, God, wait for you all in Paradise.
Little Marisa, you don't see Me, you will see Me only when you will arrive into Paradise. You see Jesus, but it is Me Who is speaking. I want you to be saints. Stop chatting badly one against the other. Sing, pray the Holy Rosary, give glory to God, help your brother who is in need and never turn your back.
My dear Bishop, never think that you have failed just because the souls don't listen to you. You are like my Son Jesus, He also felt once that He had failed, but later everything has been done according to my will.
I want to bless all the children present here, the little Sara and Mariasole, Emanuele, Samuele and Jacopo and Mary's baby. Blessed are the children! Children are tiring sometimes, aren't they, Lauretta? But they don't hurt; they aren't bad, they are alive and kicking and it is very tiring to keep them quiet. When you were little children, and let's begin with the Bishop, you were also very cheeky, but a little bit less. You parents, be strong, help the little children to grow up. Jacopo should also be good attending the Holy Mass and praying.
Marisa - God has gone. Now the Virgin is coming and all the angels and saints are coming down.
Our Lady - I don't want to spend more of your time, because standing on your feet or your knees is very tiring, but I just wanted to say: "Cheer up, don't fall down and love each other the way I love you".
Thank you for your presence here in this place lost in the mountains, but very important and made thaumaturgical by God.
Together with my and your holy Bishop I bless you, your dear ones, and your sacred articles.
I, the Mother of the Eucharist, send a kiss to every child, to the mothers, the fathers, the grand-mothers and grand-fathers.
Marisa - And nothing to me because I am not a mother or even grand-mother, I am nothing, I am nobody?
Our Lady - Look, here's your mum, kiss her.
Marisa - You are beautiful!
Our Lady - All of you will become beautiful too. In Paradise you will be beautiful, all young, disposed to give glory to God.
Marisa - Bye-bye, mummy!
Our Lady - I bring you all tight to my heart and I cover you with my maternal mantle. Go in the peace of God the Father, God the Son, God the Holy Spirit, Praised be Jesus Christ. Congratulations to everybody and wish you a good Holy Mass.
Marisa - Bye-bye.